Star Trek.
Your results:
You are Deanna Troi
| | | |
| --- | --- | --- |
| Deanna Troi | --- | 95% |
| An Expendable Character (Redshirt) | --- | 95% |
| Jean-Luc Picard | --- | 75% |
| Uhura | --- | 65% |
| Geordi LaForge | --- | 65% |
| Leonard McCoy (Bones) | --- | 55% |
| Will Riker | --- | 55% |
| Beverly Crusher | --- | 50% |
| Spock | --- | 47% |
| Chekov | --- | 45% |
| James T. Kirk (Captain) | --- | 35% |
| Mr. Scott | --- | 30% |
| Data | --- | 27% |
| Mr. Sulu | --- | 10% |
| Worf | --- | 10% |

You are a caring and loving individual.
You understand people's emotions and
you are able to comfort and counsel them.

Click here to take the Star Trek Personality Test
IS SAD. I ranked equally as an expendable red shirt! *bursts into tears* I do like red,
why
must it be so strongly and positively correlated with expendable-ness? I guess Elizabeth and I are in the same basket, then. [I'm not ashamed to say I bought a red shirt just to be like her, I am that much of a geek]
-
PAUL MCGILLION WAS IN THE STAR TREK MOVIE?!
For all of three seconds, apparently. And I missed it. *woes*
---
Vampires.
I've been listening to the Kings of Leon track
Closer
[download
here
] on repeat the last few days. Fantastic moody song, but just sounding good isn't enough for me, I like to know the lyrics so I can a) sing along and b) ponder deep thoughts about the themes and metaphors and so forth.
I really hate it when bands don't include lyrics with their albums, I think that the amount of money they charge for a CD should cover the damn words to their songs. *frowns* There are a lot of conflicting verses on the internet and I can't figure out which one's right. Considering my family has been mocking me since my childhood for messing up the words to Macy Gray's
Try
['I try to say goodbye...to my chook'. *facepalm* I love chickens, it didn't strike me as odd that someone would write a song to one! I was a kid, okay? Shut up!], you can understand why this might bother me. I am paranoid about being the butt of the joke, it's my mission in life to avoid this humiliating fate.
ANYWAY, I was really surprised when I found the
popular opinion
was that it's about vampires. I guess lines about running from the sun and bleeding people dry should've maybe given me a clue, but it's damn hard to figure out what the singer is saying, okay? I just love the horror movie theme and what a creepy vibe it has. *shudders delightedly*
-
Anyone read the
Vampire Diaries
books? Apparently there's talk it might be
turned into a series
. I haven't read it, so maybe I shouldn't judge but I am sick to death of stupid selfish teenage girls and their desperate attempts to hook vampire lovers and frakking mind-blowingly lame-ass love trianges. The show's been promoted with the premise of 'vampire brothers and their girlfriend'. Oh, whoop-de-frakking-do, how thrilling. A girl that can't choose between two vampires,
this
is the backbone of the show?! *gags*
If you want to read a great vampire series, try Richelle Mead's
Vampire Academy
. Original, exciting, and oh, look, the main relationship that's sustained over the three currently published books is the one between the heroine, Rose, and her best friend, Lissa. I just love that there is some female friendship being highlighted here,
as well as
romance and UST. For some reason, authors tend to treat snagging a boyfriend as the be-all-and-end-all in life, like having a close and loyal friend isn't important. Because all females care about are
guys
, y'know.
Bonus
- there is actual
plot
in these books, small things like handling peer pressure and depression, and large-scale things like uncovering conspiracies and fighting bad vampires and all that jazz. Rose is a kick-ass chick, she has an actual personality [no bland, vapid Mary Sue is she] and many strengths as well as believable flaws to ground her in reality, plus? She is pretty damn funny. I was so into the books that when I found out I had to wait a few weeks for the library to get it in for me, I ended up going and
paying
for one! This is how awesome they are!
---
Leighton Meester, aka Blair of
Gossip Girl
, is launching her singing career. Oh, the excitement!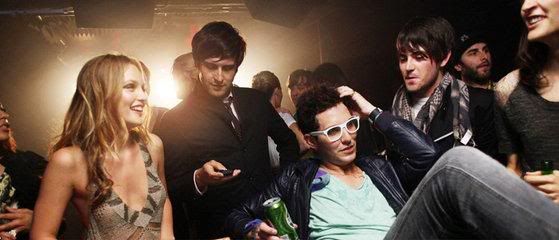 Featuring on Cobra Starship's new song,
Good Girls Go Bad
.
Vidspam below:
( Song and lyrics )
-
It's like an ode to Chuck Bass, zomg! Leighton talks about
her upcoming album
and GUYS, I am seriously psyched for this. The only thing better would be her and Ed Westwick doing a duet together! Can we have a musical episode of
Gossip Girl
, pretty please?!
---
Meme, snurched from...heck, it's been on everyone's journals lately, but I think from

sunkrux
.
( Name 5... )
---